Where Great Recruiters Meet Great Candidates (Avoid having a #LinkedIn Profile that casts doubt on your CV / Resume http://t.co/ckQjF0jt #socialrecruiting…)…
Worth a read… tried to add comment but socialgo wanted my email address after I chose to log in with Twitter… not cricket chaps… but then you did let me down a couple of years back, failing to acknowledge affiliate commissions that were due…
This Friday's infographic compares business blogging with Facebook and builds a case as to why blogging is the better marketing strategy.
Jon Davey receiving his Social Media Personality of the Year Award from Phil Ryan of 3 Monkeys Communications, sponsors of Social Media Week London 2012.

Jon Davey is the proud WINNER of the Social Media Week Award 2012 // Social Media Personality of 2011…
"Winning the SMW12 Social Media Personality of 2011 (UK) Award is just brilliant… especially since real people had to vote… it wasn't simply bestowed on me by a committee! This really helps us stand out from the crowd and I look forward to talking to Sales & Marketing Directors, especially IT Channel Partners, for whom we have created the most amazing web based business lead generation solution in the shape of our Company Pages service… call 01753 852904 NOW to discuss your needs… thank you."
Read how I chose to respond to the call to action by Chinwag, the organisers of Social Media Week London 2012. Around the world there were over 1500 events in 15 countries. The hash tag #SMWLDN was referenced over 100,000,000 times during the Social Media Week, 13th – 17th February 2012! What an honour to be 1 of 4 Social Media Week Award Winners in the UK.
Thank you to all who voted, or if you thought about it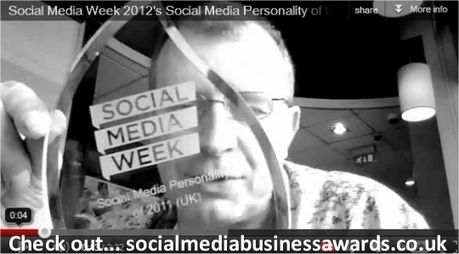 Jon Davey, creator of the Business in Berkshire & Social Media Directors brands this year was VOTED Social Media Personality of the Year 2011 in a competition organised by Chinwag on behalf of Social Media Week.
Social Media Week was held 13th – 17th February 2012… 1500 events in 15 countries… London had 150 events and over 100,000,000 mentions of #SMWLDN… it was MASSIVE… and Jon Davey picked up 1 of 4 prizes

Via www.socialmediaevents.co.uk
Picture of Marilyn Monroe blowing a kiss… let Marilyn Monroe blow you a kiss every morning
The holographic images all come with a certificate of authenticity by the artist Professor Martin Richardson. It's a unique process and his patent…
They are ONLY available under licence from Stafford's Gallery, 52 Charing Cross Road, London. WC2H 0BB.
Phone +44 (0)20 7240 1440 and ask for Mark
Social Media Directors focus on bringing teams of Social Media Directors together to help create engaging community gift based crowd funding projects that result in success for all concerned.
LinkedIn training
and LinkedIn courses across the UK.